Hi all,
We have a new product for you – the kit "Old Animalia":
***
Ahoj všichni,
máme pro Vás novinku, kit "Old Animalia":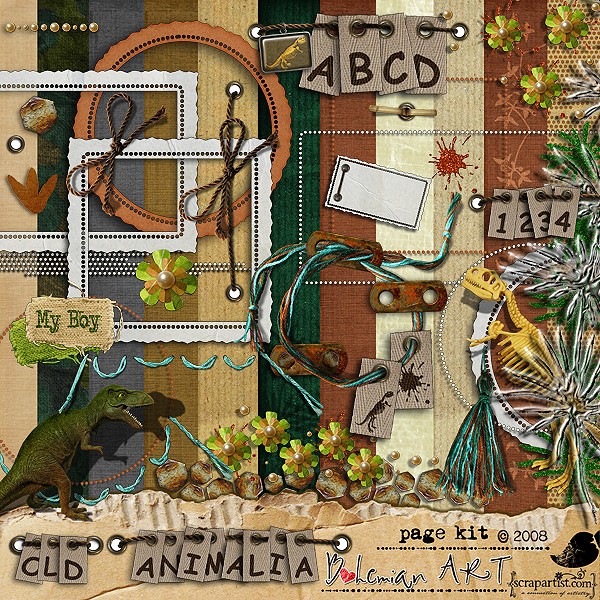 For this kit, I was inspired by my son who loves the king of the dinosaurs – T-REX
If you like this new kit, you can buy it in our shop :o).
***

K vytvoření tohoto kitu mě inspiroval můj syn, který velmi miluje krále dinosaurů - Tyranosaura REXe :)
Pokud se Vám náše novinka líbí můžete si jí zakoupit v našem shopu :o)
Pokud nemáte možnost platit přes PAYPAL, prodáme Vám ho z
a "kačky" :)
Napište nám na mail :) Kit stojí 100,- Kč.

***
We have also prepared a special challenge for you :o)
Please download a sampler for the new kit:
***
Také jsme pro Vás připravily speciální challenge :o)
Stáhněte si náš sampler k novému kitu:
Use at least 3 things from this sampler and create a layout with a dinosaur.
We will choose 3 winners, the prices are: the first - our new kit, the second - discount of 50% on any item from our shop, the third – discount of 30% on any item from our shop.
***

Použite minimálně 3 věci z tohoto sampleru a vytvořte LOčko, kde bude dinosaurus :o) Vybereme 3 výherce, první dostane náš nový kit, druhý 50% slevu jeden produkt z našeho shopu a třetí 30% slevu jeden produkt ze shopu.
******
And more little thing – the alphabet does not include the Czech accents. We have prepared them as a special bonus:
A ještě maličkost - abeceda v kitu neosahuje českou diakritiku - tu jsme pro Vás připravily jako další speciální bonus:
ke stažení je zde :o)
A ještě jedno překvapení - dnes je na SA veliká sleva

-35%

, která se vztahuje
i na Old Animálii:
Pouze dnes ho můžete mít za 65,- Kč - dobré ne? :)
a aby toho nebylo málo, tak pouze dnes můžete získat tento kit:
za jeden dolar v našem shopu :o) Pokud nemáte PAYPAL, tak za dvacku, u nás na mailu :o)
Užijte si nadcházející víkend a těšíme se na Vaše LOčka :o)

Martina